Hello, Hidden Mickey fans!
I wanted to share some of my pictures from Disney's D23 this year. D23 comes around every two years, and I have been privileged to have been there with my Hidden Mickey and Hidden Mickey Adventures novels since 2011. Every time it is different and we get to see new exhibits and meet new people. Being in a booth, I was there from 8 a.m. to 8 p.m. each of the three days. But, I did have some time before the event opened to the public on Friday morning to snoop around the exhibits in my section and get some pictures!
One of the first things we saw as we approached the Convention Center was Buzz Lightyear. Now, this was no ordinary Buzz. This was an actual Macy's parade balloon. He was huge! I had never seen one of the balloons up close before and I can now understand why there are so many ropes and people helping guide it through the street.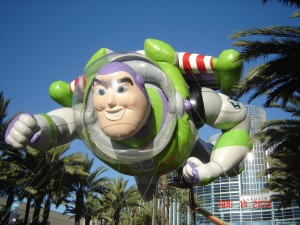 One of the exhibits that touched me the most was the Disney Archives. Some of you know the historian Dave Smith and his tireless efforts to preserve the history of both Walt Disney and Disneyland. Dave stopped by my booth, and it was nice to be able to say hello to him again.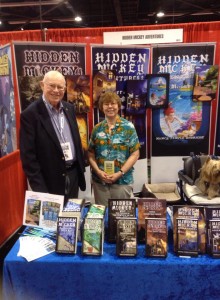 The Archives was a treat for those of us who remember back to years ago. It brought back rides and parades and attractions that are no longer in the Park, but are still vivid in our memories.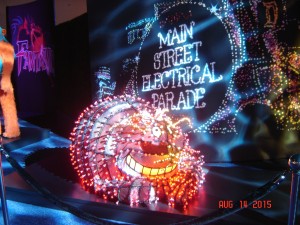 Other displays showed us some of the designing concepts that the Imagineers when through to bring us some of our favorite rides. Here is an example of the Alice in Wonderland ride vehicle in concept and in reality: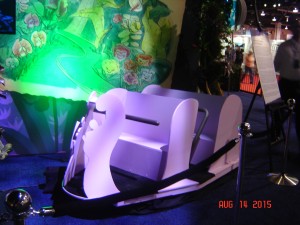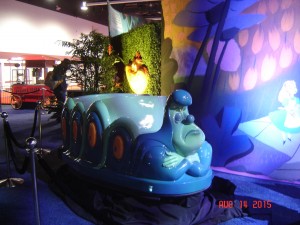 Plus, we got to meet up close and personal Disneyland personalities like Murphy and Harold!: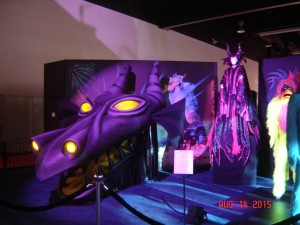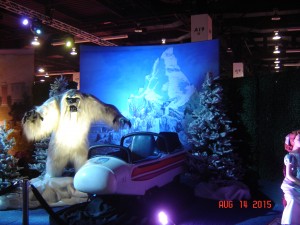 Another part of D23 that made some of us (no names here…) tear up was seeing some of the rides that had been removed from the Park. One collector brought a working Peoplemover. The doors opened and closed, the roof raised, and there were four different spiels.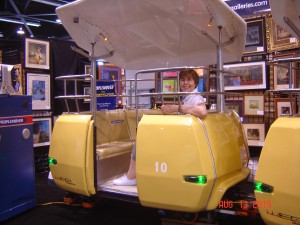 One highlight of the D23 Convention was seeing fans dress up as their favorite characters. The costumes were sometimes elaborate, sometimes whimsical. And, best of all, the costumed fans were always happy to stop for pictures! Here are a few of my favorites: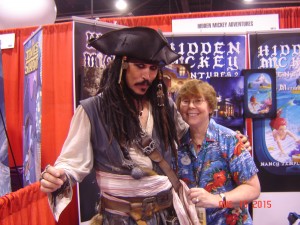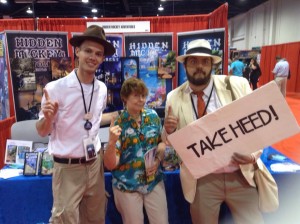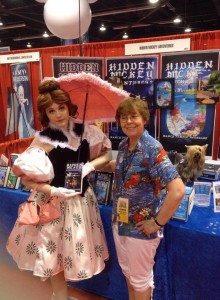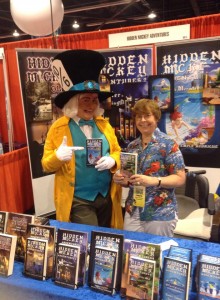 As you can tell, there was something for everyone at the event. I was happy to release my newest novel: Hidden Mickey Adventures 4: Revenge of the Wolf. It, like most of my novels, is available now in paperback, hardback, and eBooks. Check them out on Amazon and Barnes & Noble!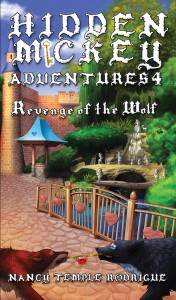 I even got to meet Sven.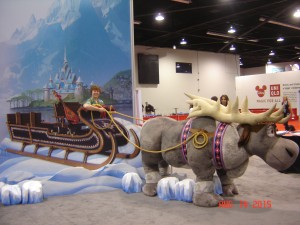 One person I couldn't have done it without is my husband, Russ. He was at my side the entire event and worked tirelessly to help make it a success. And, by his side, is his service dog, Toto. As you can see, we wore her out!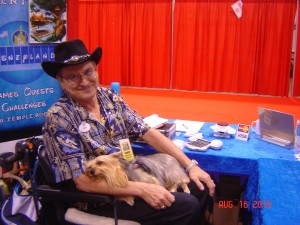 Thank you to those of my Facebook fans who came to meet me. Some of you I got to meet for the first time in person. And some I got to see again and renew our acquaintance. You all made the event very special to me!
Best wishes to all of you and I hope you enjoyed my pictures from Disney's D23 – 2015.
Nancy Temple Rodrigue