Going through my Disneyland mementos, I came across some badly crumpled plastic leis that I had saved from the Tahitian Terrace when our family had dinner there in the late 1960's.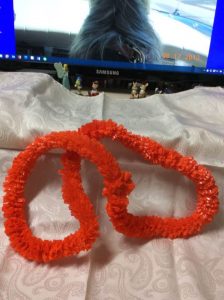 The Tahitian Terrace had been mentioned in one of my novels, Hidden Mickey Adventures 4: Revenge of the Wolf.  In Chapter 7, Walt and his team of Imagineers are going through the Park on their customary walk before the Park opened for the day, seeing how everything looked.  On this day, Walt especially wanted to see the Tahitian Terrace that was under construction.  The centerpiece of the restaurant was a huge African coral tree.  Walt decided that the branches were so low that they would obstruct the view of the nearby Jungle Cruise boats as they returned to the dock.  He had asked that the base of the tree be cut in half so a few feet could be added to the structure, and he wanted to make sure the work was done.
As I remembered the wonderful times we had at the Tahitian Terrace, I realized that there are no markings or stamps or anything on this lei that would indicate it was from Disneyland's past.  There is only my memory of when we got it and the fact it has been in my collection for decades.
This lei recalled other items I had gotten through the years at Disneyland, but didn't have any markings on them that said they, too, were from the Park.  Here are a few of my items: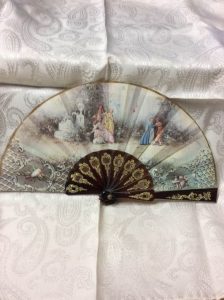 This lovely little fan was bought at the One Of a Kind Shop that used to be in the entrance to New Orleans Square.  It was a wonderful shop that had a little of everything from around the world.  The only marking on this fan is a small sticker that says Made in Spain.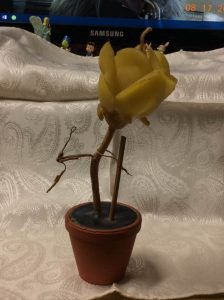 Many of you remember the Candle Shop on Main Street.  Located in the same building as the Emporium, it was stuffed to the brim with candles of all shapes and sizes.  This yellow rose, its leaves long crumbled, was purchased there, probably in the early 1970's.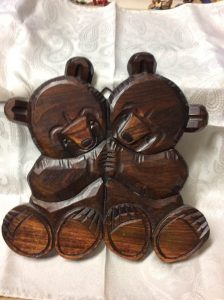 The last unmarked treasure I am sharing is this wooden wall hanging of two darling teddy bears.  This was from the days of the Country Bear Jamboree and Bear Country.  The shop was in the far back edge of the land, attached to the Mile Long Bar.  I believe the store was called the Wilderness Outpost.  This has hung in my kitchen since 1976 or 1977!
So, these have been a few of my special unmarked Disneyland treasures.  How about your collection?  Do you have some memorabilia that has no Disney markings, but you can recall exactly where it was purchased inside one of the Parks?  How about sharing some of your pictures with the other readers!  We would love to see your pictures and hear about your memories!
Be sure to check out all of my Hidden Mickey and Hidden Mickey Adventures novels to find more exciting, fascinating history about Walt Disney and his treasure of a park: Disneyland. Share them with your Disney-loving friends. Here are quick links to all the books: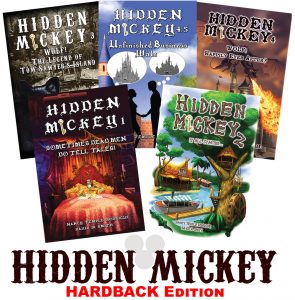 Hidden Mickey 1: Sometimes Dead Men DO Tell Tales!
Hidden Mickey 2: It All Started…
Hidden Mickey 3: Wolf! The Legend of Tom Sawyer's Island
Hidden Mickey 4: Wolf! Happily Ever After?
Hidden Mickey 4.5: Unfinished Business – Wals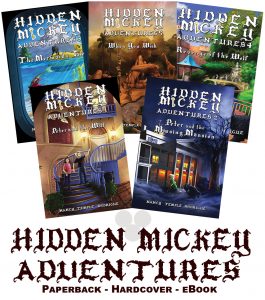 Hidden Mickey Adventures 1: Peter and the Wolf
Hidden Mickey Adventures 2: Peter and the Missing Mansion
Hidden Mickey Adventures 3: The Mermaid's Tale
Hidden Mickey Adventures 4: Revenge of the Wolf
Hidden Mickey Adventures 5: When You Wish
Buy a Bundle and Save! The links below will give you a choice of Hardbacks or Paperbacks at a special price, and I sign all the bundle sets:
Hardcover Bundle – 5 Hidden Mickey Novels
Paperback Bundle – 5 Hidden Mickey Novels
Hardcover Bundle – 5 Hidden Mickey Adventures Novels
Paperback Bundle – 5 Hidden Mickey Adventures Novels
The beautiful cover art on all novels is Available to Purchase! Beautifully created, numbered and limited edition prints of this artwork is now available on beautiful 12″ x 18″ Canvas.
Here are the links to buy them:
There are only a handful of the beautiful Hidden Mickey Heart Pendants left. First introduced in Hidden Mickey 2: It All Started… and featured throughout both series of novels. Limited edition, with a gorgeous 30 carat lab created RUBY on a 14K Yellow Gold Vermeil "Hidden Mickey".

Here is the link to buy one:
Hidden Mickey Heart Pendant with 16″ chain
Hidden Mickey Heart Pendant with 20″ chain
Here is the article on blogspot