HIDDEN MICKEY ADVENTURES 5
When You Wish
This newest release is volume 5 in the Hidden Mickey Adventures series, the book you have all been waiting for… action… adventure… and mystery surrounds Walt Disney and Wolf as they interact with Peter Brentwood in this 5th Disneyland clue-solving adventure.
Get a Signed copy at Los Angeles Times Festival of Books or D23 Expo.
As with all the other Hidden Mickey Adventures, this book was written for Adults, Teens, & Tweens (age 9 & up).
A FAMILY IN CRISIS
When tragedy strikes, Adam and Beth find it more and more difficult to believe in miracles. Will their family ever be whole again?
CAN A MAN FROM THE PAST REALLY HELP A BOY IN THE FUTURE?
Peter, still hurt and angry by the treatment he received at the hands of Nimue, is handed a special message. It is from Walt Disney himself. Can Peter get back his love for Disneyland and fulfill his special Hidden Mickey quest? Or will the absence of his partner be too much for him?
EXTORTION. BLACKMAIL. A FORBIDDEN GLIMPSE INTO THE FUTURE.
Walt exacts a promise from Wolf in exchange for his help. Wolf vowed never to take him on such a dangerous journey. Who will win this ultimate battle of wills?
NOW IS THE TIME TO WISH!
Disneyland now and in the future is the backdrop for this exciting tale of hopes, dreams, and discovery. When You Wish unites families and friends as they work together to keep the Disney magic alive both for themselves and for Walt s legacy.
Another "E-Ticket" ride through Disney's history.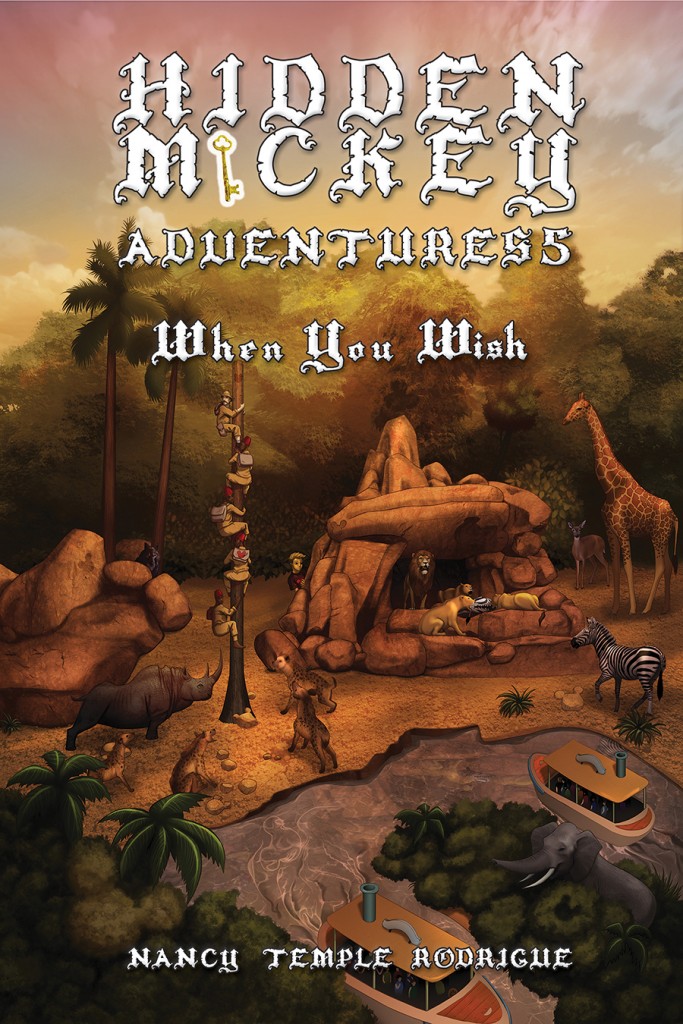 As you can see from the cover, Peter appears to be in the set of the Jungle Cruise Attraction at Disneyland.  Wolf seems to be lurking in the distance, keeping a watchful eye on things.  Why is Peter there at the Rhino scene? What could he possibly be looking for? Will he be caught when a Jungle Cruise captain catches a glimpse of a boy in a place he is not supposed to be? The answers to these questions, and many more, are answered as you are once again immersed in this fun fantastical Disneyland adventure that picks up right where the last book HIDDEN MICKEY ADVENTURES 4: Revenge of the Wolf left off, and brings you back to what happened to Lance in HIDDEN MICKEY 1: Sometimes Dead Men DO Tell tales and HIDDEN MICKEY 2: It All Started… so hang on to your hats, it's going to be a bumpy ride!
Get a Signed copy at Los Angeles Times Festival of Books or D23 Expo.
If you can't make it to those venues, this adventure is available in Hardcover edition, paperback edition, and eBook formats, from Amazon.com, Barnes & Noble Booksellers, and many many other Bookstores and online retailers.
Flesch-Kincaid Grade 4.1 – Flesch Reading Ease 83.6
This blog is also on BlogSpot