The Hidden Mickey Book Fan Club BLOG! – v002
The OFFICIAL HIDDEN MICKEY FAN CLUB!
Secrets to where to Disneyland employees eat
By David W. Smith
Hello Hidden Mickey Book Fans!
Like our Hidden Mickey novels, we hope to inspire some adventure in our readers; consider it a 'quest' to decipher some 'inside' information about Disneyland and things related to Disney.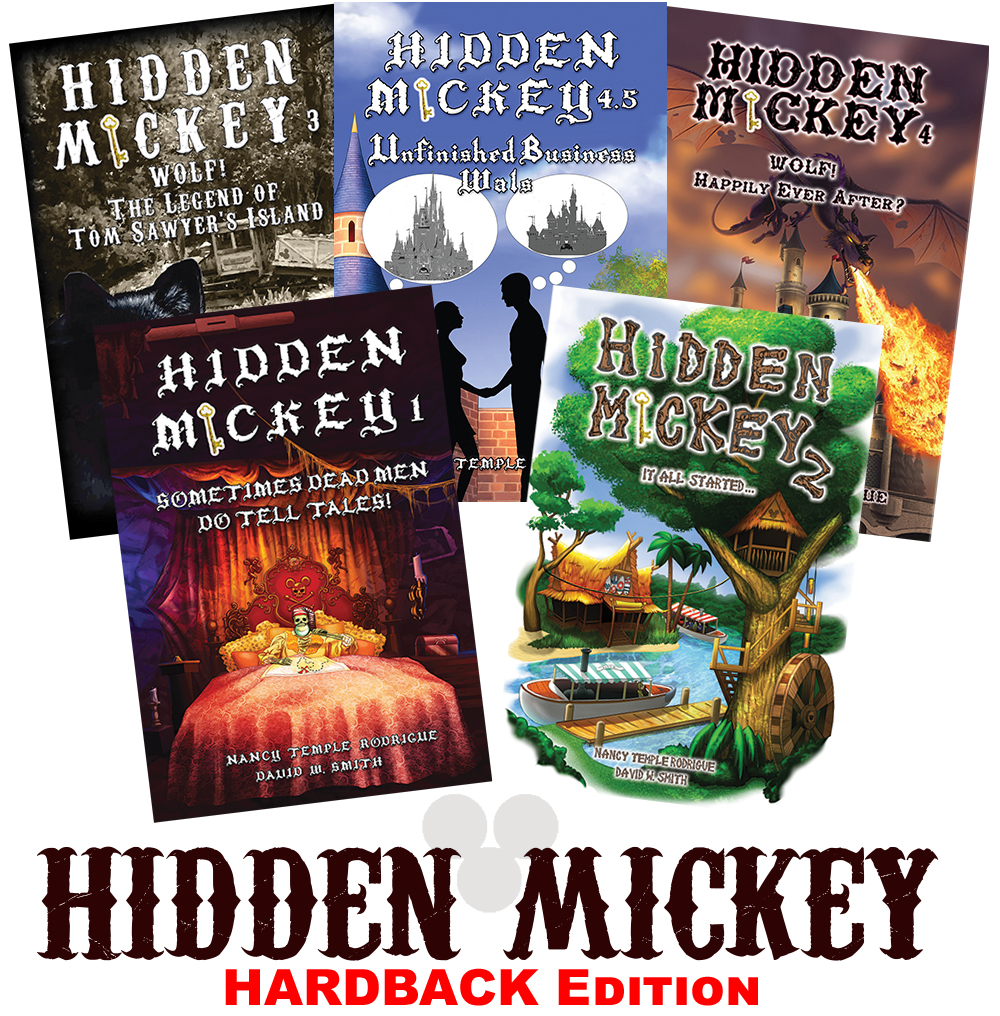 BUY THEM HERE
While some people might believe that the 'cast members' of Disneyland live off the remains of unfinished Mickey Ice Cream bars or Popcorn found in the bottom of discarded popcorn boxes, the truth is, there are two employee cafeterias at Disneyland. The first one is off Main Street near the hub. As you approach the Tomorrowland entrance, there is a First Aid center just past what used to be the old general store at the end of Main Street. Just past this First Aid center is a Cast Member's entrance which leads to back stage. Just past this entrance is one of the two employee cafeterias.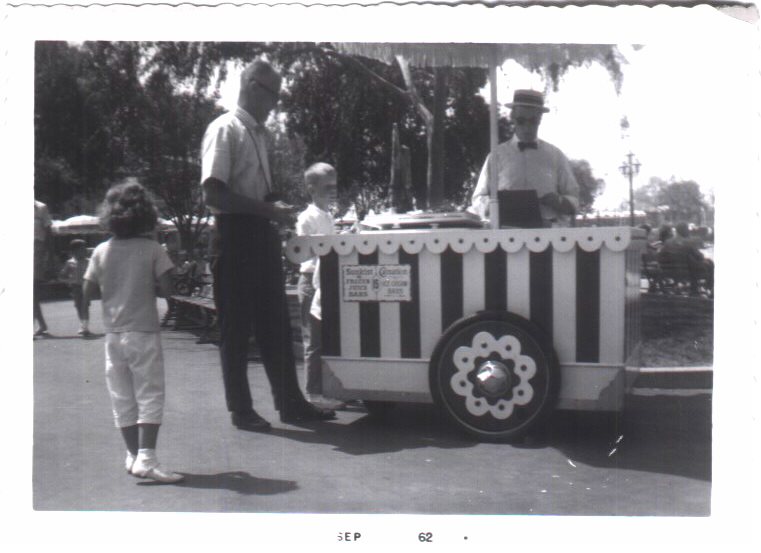 Author Nancy Temple Rodrigue with her Dad and Brother in 1962
The second one is on the west side of the park below New Orleans Square. Actually, it isn't really below the Square, it is behind part of Pirates of the Caribbean, and down a large tunnel that starts just behind Indiana Jones and the left side of Pirates.
Another entrance to this cafe is to the right of the men's restroom in New Orleans Square, just to the left of the Disneyland Railroad train depot in the Square. Down a short hall past the men's restroom is a door that leads to a stairway. This stairway takes you down to the DEC, or Disneyland Employee Cafeteria (that is what it was called when I worked there). It was nicknamed the PIT, not because of the perceived quality of food, (which was actually not bad!), but because when it was opened back in the early 1970's the walls inside were painted like race cars. Hence the name PIT, short for Pit Stop.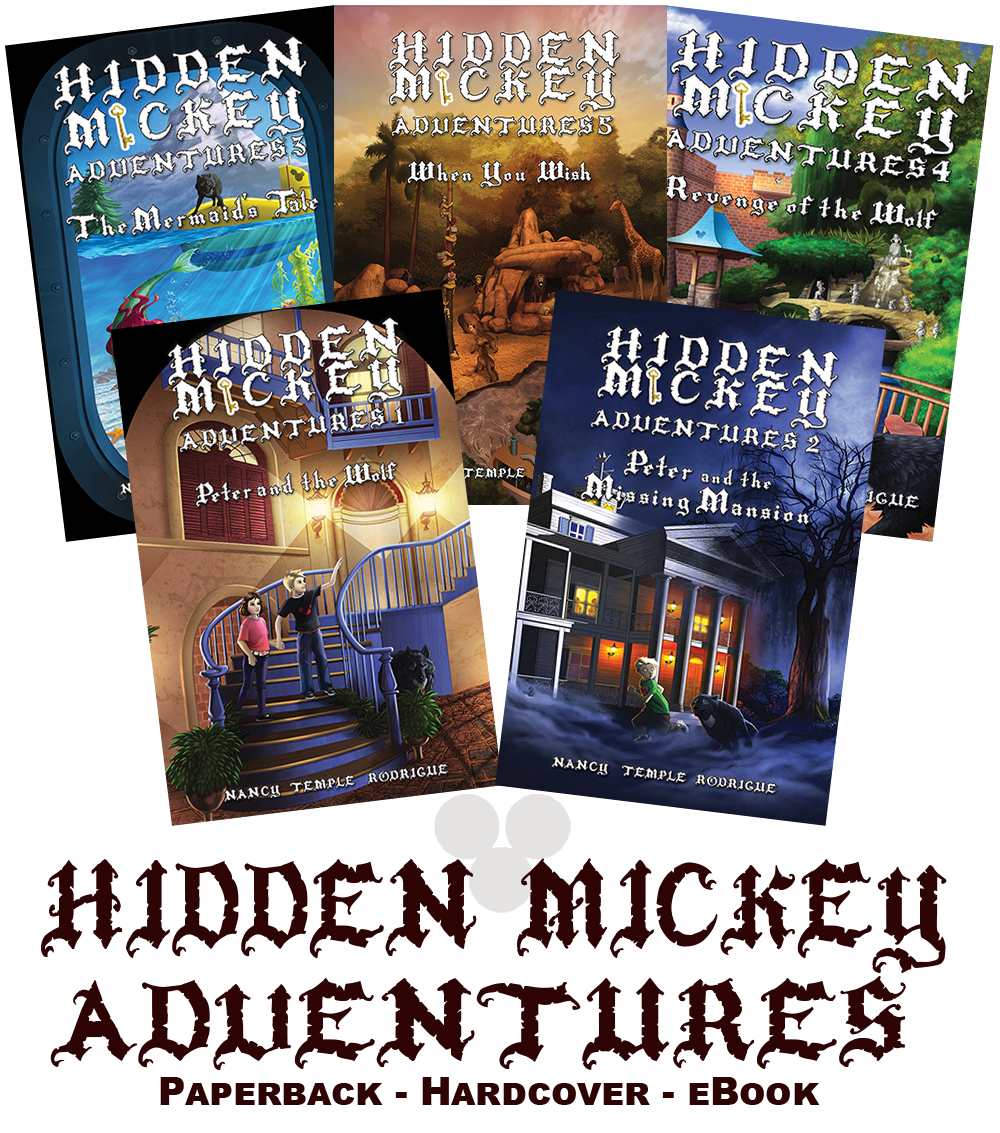 BUY THEM HERE
There are numerous break areas around the park for cast members too. Behind the Hungry Bear Restaurant in Critter Country, there is a covered patio with a ping pong table and chairs to relax or read in. In between Frontierland and Adventureland is a semi-circle of shops and food stops. In the middle of these shops is an open area with stairs that lead up to second floor offices. There are covered break areas up on the balcony of this second floor. These are the offices of various managers of the west side operations.
There are break areas in Fantasyland and Tomorrowland too as well as one behind Toontown.
So there you have it.
The cast members of Disneyland don't depend on the guests for their meals, unless of course one of the guests asks one of the cast members out for dinner!
Which happens frequently!
Well… that's it for this issue…
Enjoy, and have a Great Hidden Mickey Day!

Future Book Signings
Be sure to check The Hidden Mickey BLOG for the latest Hidden Mickey news and Book Signing Dates.
POST YOUR BOOK REVIEWS online at:
DoubleRbooks.com
AMAZON.com
If you don't see HIDDEN MICKEY in your local bookstore, please ask the Store Manager to order it, or contact us with the Bookstore name & address, Managers name, (plus their Phone and/or eMail if possible). We will contact them and maybe even set up a Book Signing there.