Hello, Hidden Mickey Adventures fans!
All three of the Hidden Mickey Adventures Game Books are on sale on Amazon! The sale applies to both the paperback and the eBook copies. Whether you are going to Disneyland, Disney California Adventure, or WDW's Magic Kingdom, you can get a paperback quest book for only $4.99-that's half off the regular paperback price! If you will be going to 2017 D23 in July, be sure to stop by my booth 310E because I will have a special deal for you! Here is the link to Amazon's sale: amazon.com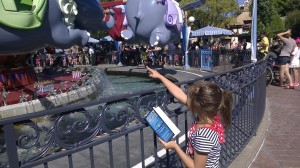 These books are fun for the whole family. There are trivia pages and puzzles you can work on while waiting in lines, there are Hidden Mickey searches, there are pictures you must find in the Park, there are road rallies, and even games for the Junior Adventurers in your family.
You will enjoy reading what others have said about the game books:


Here's what Vera said: "My family and I love Hidden Mickey Adventures. We are annual pass holders and have been for a few years now. Taking the book to the park with us and doing the quests was a nice change from our normal routine. We have only done a couple of the quests so far and are looking forward to doing them all."

The Reed family posted: "Fun book! We brought it with us to DCA and it added a lot to our trip for our kid, and us as well! Fun visual scavenger hunts, quizzes (which our kid loves!), and pictures of hidden Mickeys, but you have to find where they are. Good book for Disney fans as well, there were (many) times I found myself looking up challenges before the kiddo asked! And some of the questions were hard, it was stuff I didn't already know and I thought I knew most of it being a pretty big DLR fan. The book was small enough that it fit in the front pocket of our back pack so it was easy to bring to the park. It actually fit in my front pocket. Well worth the $ to make an already magical trip just a little bit more fun. I truly hope there will be more quests book that come out in the future."

Natalie had this to say: "During a recent vacation, I took a copy of the book with me into the Magic Kingdom. The book is very lightweight and small, making it easy to carry while touring the parks. I, being someone I who knows quite a bit about the Magic Kingdom parks, found this to be a lot of fun. Many of the facts mentioned were new to me. It offered me the opportunity to find something new while vacationing in a park I have been to many, many times. While I did not complete all of the adventures, I did have a great time participating in the fun! I felt that people of all ages will definitely find this entertaining. I found that I would read the questions while standing in line, then headed out on my hunt for the answers afterwards."
So grab a game book for only $4.99 while they are half price, and Have a Great Time inside the Park. Here is the link: amazon.com